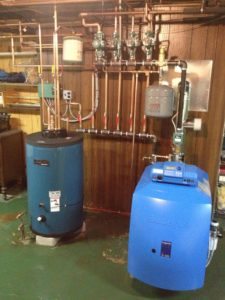 All over the television, radio, and internet, homeowners are bombarded with advertisements from HVAC companies who make big promises about their heating system installation practices. At Mauger & Co. and our subsidiaries, we know that money spent on high dollar billboards, SEPTA bus wraps, and expensive morning news commercials would have to be passed along to you, the customer. That is why we invite customers to compare our heating system installation prices with those of the big corporate heating companies. What you will find is that Mauger Energy, Aabbots Energy and Plotts' Energy are in the position to install your new heating system and equipment for much less than other companies because we have not put our customers on the hook for a million-dollar ad budget.
Why Do I Need to Replace My Heating System?
Our factory trained sales reps, installers, and technicians get asked this question by homeowners from time to time and there may be several answers. Nowadays, manufacturers are designing heating equipment that is simply far more advanced than the equipment that was on the market as recently as 15 – 20 years ago. If your system is over 15 years old, you could see tremendous cost savings on your monthly energy bill by choosing to replace it. Not only will a new system generally save you money over time, but it will also carry with it a much smaller risk of part or system failure in the near term. The longer you keep an old system working from season to season, the greater the risk that one day you may wake up and it will have failed completely. That's no fun in the middle of winter in Chester County, Berks County or Montgomery County!
Age is not the only reason that folks choose to replace. Some folks simply have systems that are too small to heat their homes. Maybe an addition was put on since the original heating system was installed or maybe the prior owner of the home had a system installed that was just not powerful enough to adequately heat the home in an efficient manner. If you have rooms that stay cold when the rest of the house is warm, or it just takes forever for your house to get warm and stay warm, you should ask to speak to one of our dynamite sales representatives who can show you some options to fit your budget. Over time, an overworked system is very likely to experience part and system failure and may very likely cost you much more to continually repair that replace.
How Do I Make Sure My New System is Running at Peak Efficiency?
Simple! The pros at Mauger & Co. and its subsidiaries have many different service plan options. All plans include a comprehensive annual cleaning and tune-up with replacement of the filter, nozzle, and strainer. In addition, we have a basic plan that affords a discount on parts and labor to the Gold Standard that covers most parts and affords 24/7/365 service. Whatever your budget, we have a plan to keep your system operating in tip-top shape.
For over 50 years the name Mauger has been on the side of oil delivery trucks and a service vehicles. Five decades later, the Mauger family still owns and operates the company. The marching orders given by Clyde A. Mauger, Jr. in 1964 are as relevant today as they were 5 decades ago. We now call it the "Mauger Principle" that says, Quality Products – Dependable and Outstanding Service – A Fair Price – A Neighborly Approach.
Give us a call at 610-429-8200. You will always speak to a real, live person.
---
Click here to view our Heating and Air Conditioning Service Contract