A Special
Thank You

to Those Who Helped Mauger & Co., Inc. in Supporting the Pennsylvania Veterans Foundation!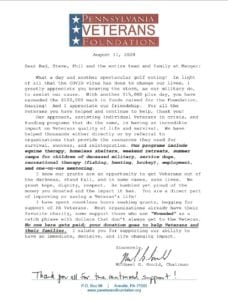 The Mauger & Co., Inc. Family of Companies held the 7th Annual C.A. Mauger Memorial Golf Outing on August 10, 2020. The event was held at the beautiful Penn Oaks Club in West Chester, PA. Over the last seven years you have helped us raise over $100,000 for the PA Vets Foundation, where $0.97 of every dollar donated goes to help a PA Veteran. $100,000 is a lot of money that continues to get to vets and families where it can do the most good!
The "Mauger Principle"
Quality Products – Dependable and Outstanding Service – A Fair Price – A Neighborly Approach
Cozy in the winter and comfortably cool in the summer.  Isn't that how we want to feel when we walk through the front door of our home?  We believe that heating and cooling of the home should be transparent, something about which one rarely needs to think.  Mauger & Co., Inc and it's subsidiaries has been doing just that for our friends for over 50 years.  Because we call these areas home, we don't consider our customers to be accounts but rather neighbors and friends.  Many of you will remember the feeling of years past when you didn't need to lock your front door and your neighbors were almost part of the family.  This is exactly the feeling we try to convey with the "Mauger Principle."  We want to do all those little things without being asked and always be there when needed.
Every drop of our oil is treated with UltraGuard  XL premium additive at no extra charge. How does UltraGuard XL protect your heating system?
UltraGuard XL dissolves sludge, sediment and carbon deposits
Stabilizes the fuel and controls fuel breakdown–the primary source of sludge
Slowly purges lines and nozzles and keeps them clean; removes water from condensation and keeps it under control by neutralizing its acidic nature
Inhibits corrosion of tanks and lines by controlling the water and it contains a separate corrosion inhibitor
Contains a preservative to control bacteria growth that clogs nozzles and lines
UltraGuard XL extends the life of heating equipment by protecting essential parts–Any surfaces of your heating equipment that come in contact with heating fuel will be automatically lubricated with UltraGuard XL!