Trust Mauger & Co., Inc and its subsidiaries for a Healthy Home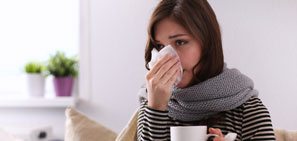 Improve Indoor Air Quality with whole-home solutions and state-of-the-art control over humidity, air purity, ventilation and temperature. Healthy Home solutions improve a family's health, increase comfort and energy efficiency and help preserve the home. The experts at Mauger & Co., Inc. and its sister companies can steer you in the right direction so you and your family can breathe easy.
Relieve Dry Air Symptoms
Prevent the problems associated with dry air – itchy skin, sore throats, flu, damaged floors and more – by maintaining proper humidity levels. The experts at Mauger & Co., Inc. can recommend whole-home humidifiers with automatic control to provide the correct amount of moisture all winter.
Benefit from Controlling Your Indoor Air
We can help you turn problem air into healthy air.
Your home is your sanctuary, where you've cultivated a comfortable, healthy environment for your family. But did you know the air inside your home may be more polluted than the air outside?
Poor Indoor Air Quality (IAQ) is due to a variety of factors and multiple sources. It can cause problems that affect your home, furnishings and belongings as well as your family's health and quality of life. Everything from minor sinus irritations, to asthma attacks, to dry skin, to cracks in wood floors and furnishings.
Indoor Air Quality is Not as Apparent as Outdoor Air Quality
While essential for life, air's purity is not assured. Outdoors, much of the air pollution is visible, reminding us daily that our air quality is being compromised. Indoors, the dangers are less obvious but can be just as harmful
Indoor air quality, or IAQ, refers to the condition of air in your home. It is made up of:
Temperature
Humidity
Air Purity and
Air Freshness
An independent testing of the air of 10,000 American homes across the country demonstrated that 96 percent of homes had at least one type of IAQ problem.
You Can Protect Your Family from Poor Indoor Air Quality
You deserve a healthy home environment. Mauger & Co., Inc. and its family of companies can help you identify sources of poor IAQ and provide the right solutions for your home and your family. Solving IAQ problems will enhance and preserve your:
Comfort: Get rid of itchy dry skin, annoying static shocks and other uncomfortable situations.
Health: Battle the contaminants that lead to everything from minor sinus irritations to severe health complications.
Home: Protect your home from wallpaper peels, wood cracks, mold and mildew.
Energy Savings: Save on energy costs with automatic solutions and keep your heating and cooling equipment running longer and trouble-free.
Mauger & Co., Inc. and its subsidiaries have partnered with the top names in Air Filtration, humidifies and AIR SCRUBBERS to be able to recommend to you, our valued neighbor, the right choice for your particular problem.  We even have a unit that, through its technology can destroy up to 99% of surface contaminates and destroy 90% of airborne contaminates in your home or business.
Call the Mauger family of companies at 610-429-8200 to learn more about products and solutions for a healthier home.